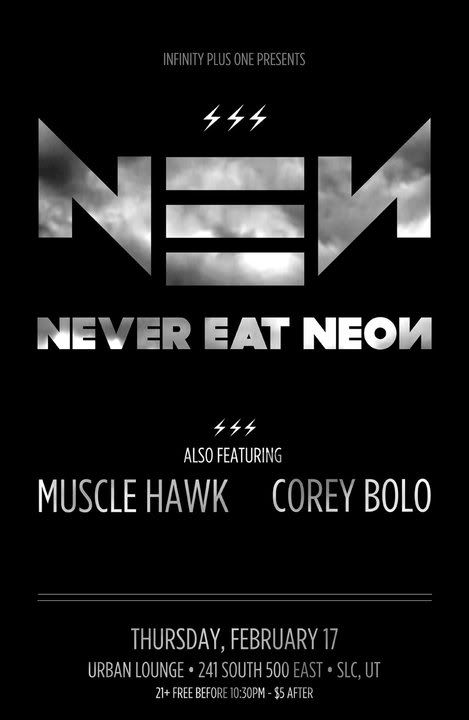 Before NIGHTFREQ got into the scene there was a duo called Never Eat Neon and they were destroying the scene and it consisted of Hot Noise (Jeff Larson) and Kid Plastik (Drew Taylor). Their Heavy electro and dirty basslines would bring down the house everytime, EVERYTIME! Jeff stayed in the city and kept the electro scene alive in S.L.C. and drew went to China. Well they are back! And they are gonna play a huge show this February 17 at The Urban Lounge. So get ready to Fuckin Rage! I forgot to mention that our home town heroes MUSCLE HAWK will be playing with them and also Corey Bolo one of our local boutique owners ( Shout out to FICE) will be on the decks droppin hammers. Below is also a promo vid for Muscle Hawk and how they like to do it! Check them both out cause you know you want tooooo!
here are the details and Links:
Muscle Hawk Facebook
Muscle Hawk myspace
Hot noise
The dopefiend.com
FICE website
FICE facebook
Infinity+1 & The Dopefiend.com
NEN Teaser from Drew Taylor on Vimeo.
Present:
NEVER EAT NEON @ Urban Lounge
Never Eat Neon Returns to Urban Lounge Bigger, Stronger, and equipped with more audio ammunition than ever before.
▬▬▬▬WHEN▬▬▬▬▬▬▬▬▬▬▬▬▬▬▬▬▬▬
▬▬

Thursday February 17th

We are taking over Urban Lounge in Downtown Salt Lake for one night of heavily fueled dance floor madness and we have invited some of our close friends to help us rock the party.



▬▬▬▬WHO▬▬▬▬▬▬▬▬▬▬▬▬▬▬▬▬▬▬▬

▬

DJ Sets Performed By:

-Never Eat Neon

-Corey Bolo

-Muscle Hawk



▬▬▬▬WHAT▬▬▬▬▬▬▬▬▬▬▬▬▬▬▬▬▬▬

▬▬

Come Party with us as we stimulate your senses with eye popping visuals, enveloping sound, and the most cutting edge in Electronic music.

Doors Open @ 9:00 PM



▬▬▬▬WHERE▬▬▬▬▬▬▬▬▬▬▬▬▬▬▬▬▬

▬▬▬

Urban Lounge
241 South 500 East
Salt Lake City, UT, 84102