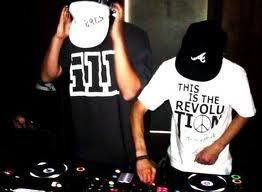 I know these kids and they go by the Dirty Dutch Bros. From what im hearin they are makin power moves in SLC and thats just what this city needs. Young producers from the great beehive state causing a ruckus in our small little town. Here is a little bio about them peep it!
Introducing the Dirty Dutch Bros.
Dirty Dutch Bros have opened for some of the worlds most sought after acts like Above & Beyond, Marcus Schossow, Filo & Peri,Mark Knight, John O' Callaghan,Matt Darey,Klaas, Dj Reza and have closed for names like Global Deejays and Myon & Shane54. Been on line-ups with , George Acosta, , Rank1, Showtek, GenX, Morgan Page, Baby Anne, Basshunter, Darude, 4Strings, JES, Micro, Matt Cerf, Noel Sanger + many more!
With the broad variety of taste and listeners, they ultimately created a sound that nobody in the United States has. Their unique and technical style of mixing creates emotion within the set, and drives people to their feet leaving them craving more and more.
With the fascinating, unique flavor these two bring it just wasn't enough for them. In May 2010 they started producing Dutch House to create their own sound. All it took was a few massive tracks, and they started getting global exposure from huge artists like Peacetreaty and Gianni Marino. In December 2010 The Dirty Dutch Bros. were signed to a Major Label, Harkee Records, from Spain. With their very first EP released all over the globe January 3rd 2011, and more coming, these two are going to pave a huge mark for Salt Lake City, and Dirty Dutch House
Here is a couple originals that they have made. These tracks i must say are pretty good :)
Dirty Dutch Bros - Afrosidney by Dirty Dutch Bros.
Dirty Dutch Bros - Not Yet (Original Mix) by Dirty Dutch Bros.
Dirty Dutch Bros - Not Yet (Original Mix) by Dirty Dutch Bros.
Here is thier recent mixtape take a listen!!!!
Dirty Dutch Bros - August 2011 Promo Mix by Dirty Dutch Bros.
One last thing.....show these guys some love by voting for them at the Party Utah Link just click
here
:)
P.S.
here is thier face book and sound cloud links.......Enjoi
Face Book
Sound Cloud